From ancient to awesome
Hemp is a natural superfood that fuels your body, feeds your brain and energizes your life. 
Read More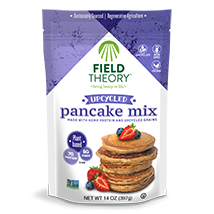 Upcycled Pancake Mix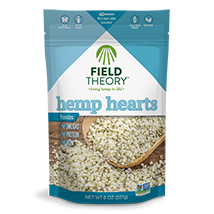 Hemp Hearts
Our raw shelled hemp seeds are delicious and nutritious. Sprinkle them on salads, mix them with yogurt and smoothies or enhance any of your favorite recipes. Enjoy Field Theory hulled hemp seeds. Bring hemp to life. Hemp has been cultivated for thousands of years the world over. It's packed with vitamins, minerals and plenty of nutritional goodness with Omega 6 (8g) and Omega 3 (3g) per serving.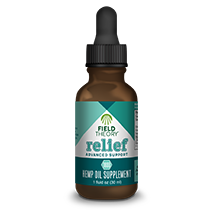 Hemp Oils
Field Theory™ hemp oil extract comes from organically grown hemp plants, farmed without the use of pesticides or herbicides.  This high purity extracted hemp oil product is then tested by third party laboratories to insure product content and quality. All product components incorporated into Field Theory™ hemp oil blends are released for manufacture only after passing through standardized quality control processes; and are released for sale after final finished product inspection. Organic, virgin hemp seed oil used in Field Theory™ Relief™ and other Field Theory™ oil infusion blends, is an excellent, nutritious emulsification oil which provide additional nutrition value and health and wellness benefits.*

IN THE NEWS
Delicious Hemp Food Recipes
Field Theory food products are delicious on their own or as an ingredient in your favorite recipes.  Chefs, bakers as well as amateur foodies are always coming up with great new ways to incorporate our plant based hemp products with other foods.  Check out a few of our favorites to jump start your own creativity.
Learn More
Follow Field Theory Hemp on Facebook
Keep up-to-date on the latest news and product info by joining our network on Facebook.